September 8, 2023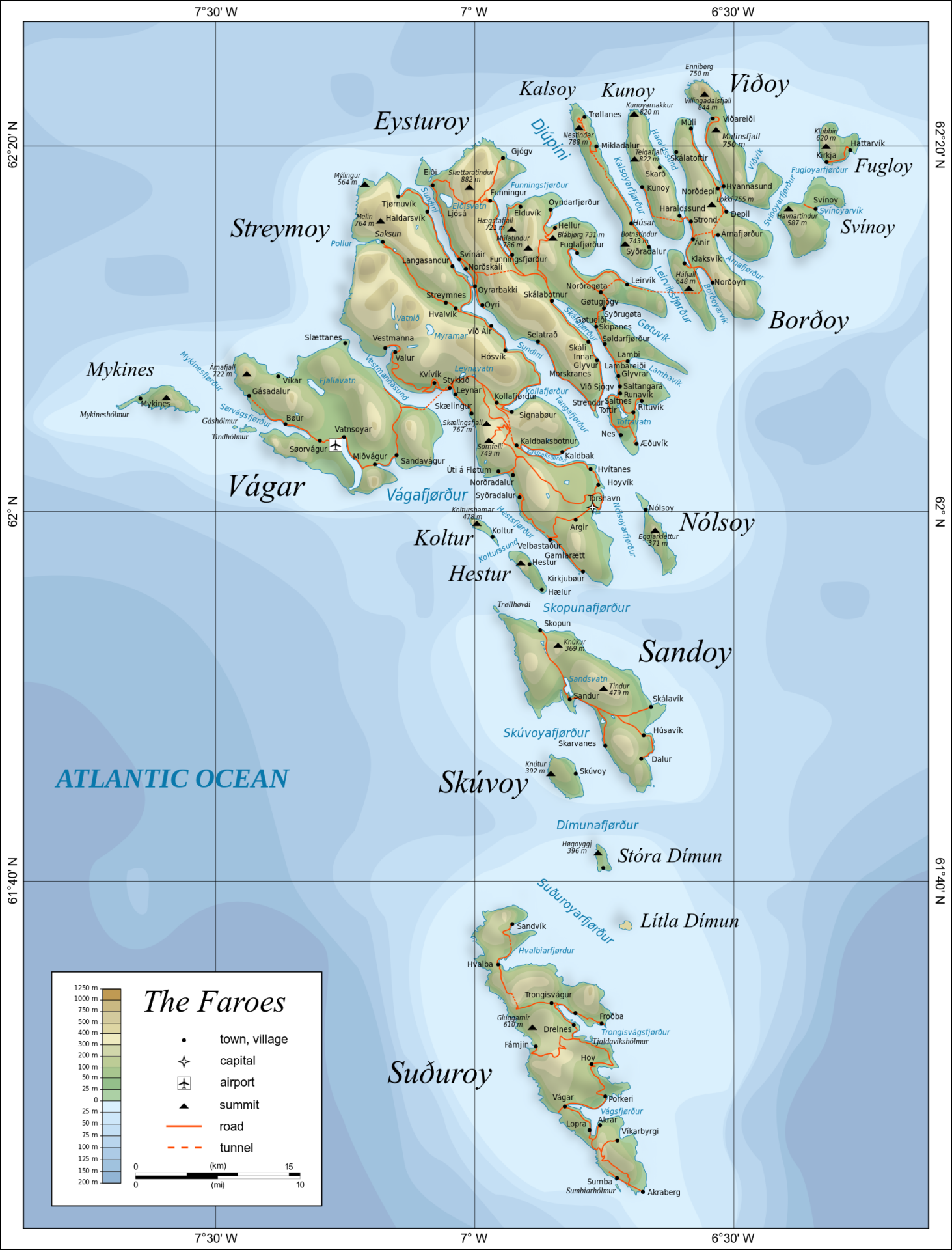 The Faroe Islands are a mystical and moody destination for anyone, but spectacular for anyone interested in photography.
You will need approximately 5 full days to cover the Faroe Islands, and here's a plan to divide this up.
Day 1: Mykines Island Visit
Day 2: Exploring Vagar
Day 3: Kalsoy Lighthouse Hike
Day 4: Exploring Eysturoy
Day 5: Exploring Streymoy
Extra Day: Rainy day, if some of the plans go awry due to weather
Day 1: Mykines Island Visit
Visiting this super remote island off of Vagar is worth it for the otherworldly views on the way, the exciting ferry ride on rough seas, and the beautiful puffins you get to see on the remote cliffs. The ferry (from Sørvágur) only runs during summer and it gets canceled whenever there is any inclement weather so recommend booking early in your trip so that if it gets canceled, you can try again later. Booking ferry tickets in advance is required and so is a guided hiking tour on the island itself.


Day 2: Exploring Vagar
While you probably drove up this road to reach the ferry to Mykines, you should take a day to explore the Vagar region at a leisurely pace. You probably want to cover the following points of interest.
Easy Trøllkonufingur (Witches Finger Trail) Hike (about 1 hour)
Red Church at Sandavágur
The quaint town of Bøur
Mullafossur falls
Gasadalur Village
Lake Sørvágsvatn and the Trælanípa Hike (2.5 hours) – Hiking Fee
Depending upon the time you had left on the previous day when you went on the Mykines ferry, you could add a few of these items depending upon your schedule. You could also move some of these that you can't fit in into the extra day.


Day 3: Kalsoy Lighthouse Hike
The Kalsoy hike to Kallur lighthouse is recommended only if it is a clear day and there is good visibility. Unfortunately, you cannot know that in advance. The hike itself would be reasonable if not for the muddy and slippery ground and really poorly maintained trail. If you are not careful you certainly can fall. Really good hiking boots are required. Also, hiking poles are recommended for extra safety. Finally I would recommend keeping it light for this hike.. maybe a small water bottle, your phone, and the smallest camera possible with a single lens. The hike is far easier if you are traveling light as you can find it easier to navigate around. Unfortunately, when I hiked up this trail, it was completely covered with fog with no visibility. Note that even though you can probably hike this by yourself, going with a group might be recommended as they arrange a bus for you from the ferry to the hiking starting point. Tour link.
Day 4: Exploring Eysturoy
Drive to Funningsfjørður via the sleepy towns of Hosvik and Hvalvik and then to Funningur and follow the road to Gjógv. The viewpoint to see the road zig-zagging from Funningur is a sight to see. This is an amazing road to drive but note though that these are one-lane roads so you have to pull over if someone is coming from the other direction. You can hike to the Hvithmar viewpoint which is about 30 mins total and is an easy hike. From Gjógv, retrace your way back to Eiði. You can drive across the mountain pass winding around Slættaratindur. You will also see the Risin og Kellingin sea stacks viewpoint on the way. From Eiði drive back to Torshavn. While the distances are not great, stopping everywhere to take pictures will take time and this will take you a full day.


Day 5: Exploring Streymoy
Drive to Hvalvík and then follow the really scenic road to Saksun which is a perfectly beautiful village nestled between very tall mountains and with a picturesque waterfall on the side. This really feels like a place out of the Lord of the Rings movies.

Drive back to Hvalvik and then drive north to Tjørnuvík passing the Fossa waterfalls.. if the water flow is manageable you can climb via a small trail to get close to the falls. The town is simply spectacular with a black sand beach in the front, a view of Eysturoy and its sea stacks in the distance and surrounded by mountains with silvery strands of waterfalls streaming down. This really looks magical when it is foggy and misty.


Food Recommendations
The Faroe Islands shuts down pretty early at night, especially on a Sunday. If you fly in late on Sunday, your best bet might be small pizza takeaway places in Torshavn.

For a truly fantastic once-in-a-lifetime meal, try Raest which is based on fermented foods and a 13-course meal. You can try booking a shared table to pass the time while the food is served over a 4.5-hour long dinner service.

I did eat twice at a small place called Hamsa Bistro which was delicious and incredibly friendly service.

If you are craving Asian food, Hvonn looks interesting but you would need reservations. There is also a small Thai-style takeaway place which was reasonable.

Every morning I suggest picking up sandwiches to go from the gas stations because you will not really know where you will be and where you can get food.
Gear Recommendations
Obviously, a wide angle is required, the wider the better. The challenge is capturing images that have depth and show scale. Including roads, houses, and people whenever possible helps provide the feeling of scale. A weather-sealed camera body/lenses are ideal as you will be shooting most of the time in rain.
I also recommend a telephoto for detailed landscapes to provide a compressed look. A solid tripod is essential as it can be quite windy and if you don't have something solid even a small gust will cause camera shake in your long exposures.
A 6-stop and 10-stop ND filters along with a circular polarizer are additional items I would recommend you take with you.
I took a Canon R5 with 14-35mm F4 L and a 70-200mm F4 L lens and the combination worked really well. I did have a Canon M200 with a 22mm F2.0 lens for long hikes.

Other tips:
You really need to get a proper rain layer/jacket to wear every day, as the weather can turn on a dime. Also, suggest gloves and a head covering. When the wind blows it can be chillingly cold.
The Faroes have a phenomenal cellular network all across the island. You will have 3G access almost everywhere.
The weather determines everything here and will decide what you do. You will need to expect the worst weather possible as normal and be happy if you do get some sunshine. In my opinion, the Faroes are magical when it is misty, foggy, and raining. You will find yourself playing peek-a-boo with the landscape and that is even more wonderful. I disliked it when it was too sunny.. it robbed it of the landmark charm.
Additional Resources
Other Blogs useful for Planning
Tags:
#camera
#photoalbum