February 17, 2023
There are two primary reasons to improve meetings across any organization.
Meetings are the key lever for improved employee engagement and productivity
Meetings as synchronous communication don't really scale that well unless they are well run.
Understanding meetings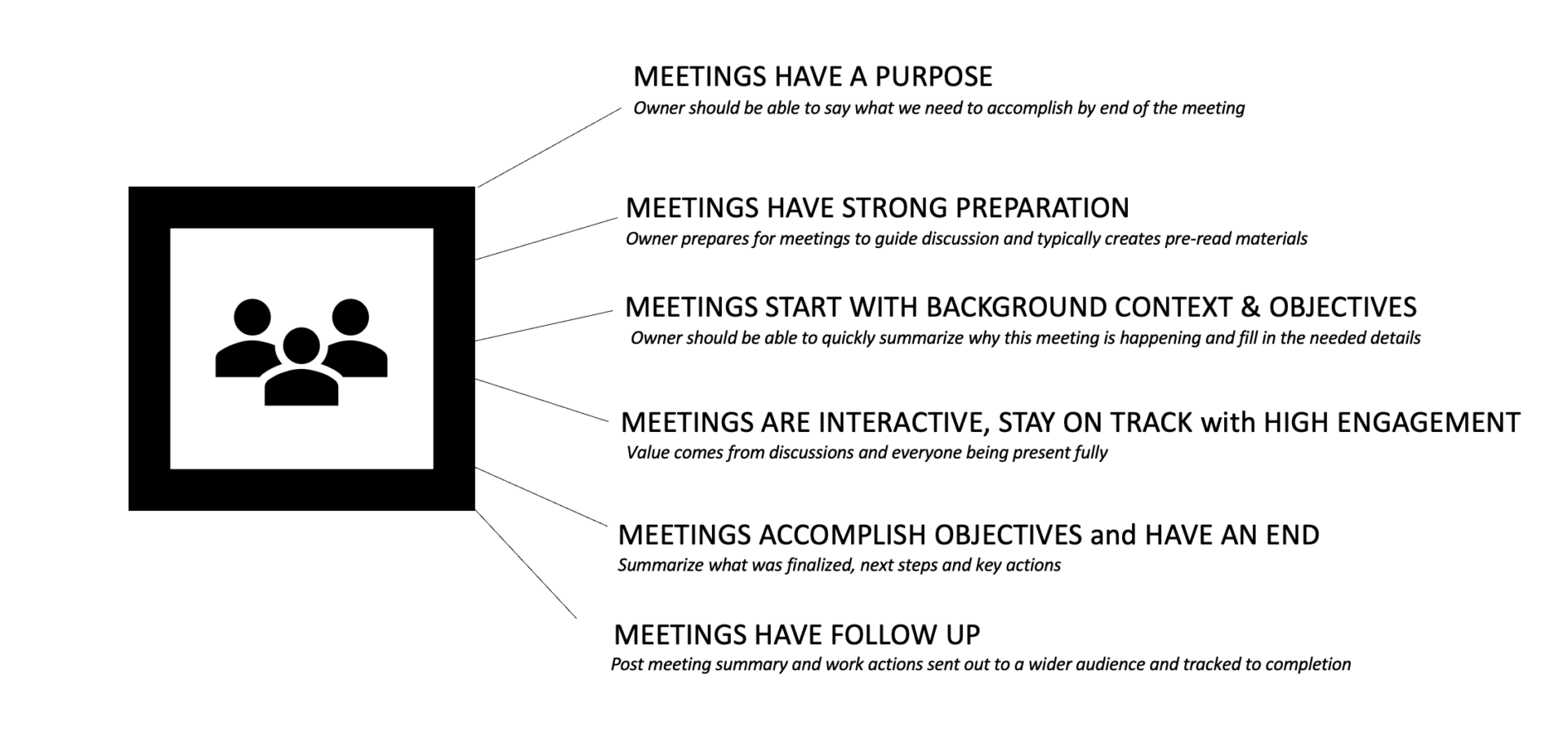 Breaking the above down into sections:
Meetings should have a clear and well-articulated purpose. The meeting owner should be able to specify what they hope to accomplish by the end of the meeting.
Meetings have preparation done ahead of time. This really puts the onus on the meeting owner to create the requisite materials and then send them out ahead of time ideally so that the meeting attendees come well-prepared for the meeting and ready to attack the topic or issue at hand.
Meetings start with context and objectives so that everyone's up to date. Even with distributing preread materials, it is possible that either that is not read or there are still open questions that the meeting owner should answer right at the beginning.
Meetings are interactive and stay on track. This really means that the onus is on the meeting owner to make sure all voices are heard and the leader speaks last. To improve engagement, ideally, meetings should be run on video with quick interactions around the table. For high-quality meetings stick to no more than 5-6 people on the call.
Meetings have a clear ending. Meeting owners should summarize what was discussed, what objectives were satisfied, and which ones were not. The next steps following the meeting are also discussed.
Meetings have a strong follow-up. A meeting summary and action items are sent to a wider audience (not only to the meeting attendees) to raise awareness and then finally tracked to completion.
When to Schedule Meetings

Meetings are the most expensive type of communication in an organization as it is synchronous. When I mean synchronous I mean that the people really have to all find the time to join the meeting at the time and dedicate all of their attention to that meeting during the time the meeting is happening.
When you start looking into scaling organizations, the key is to improve asynchronous communications. ie people can work on their schedules and timelines without having to dedicate their full time to a meeting. The best way to do this is to allow topics to be discussed via async means (like emails, discussion threads etc). The owner typically should prepare a succinct and precise description of the problem at hand and then socialize and circulate the materials for review to the appropriate people who might have input. A discussion could happen offline through that same communication channel. If there is convergence on the topic then the discussion is complete and no further action (or meeting) is needed.
When there is significant divergence or lack of alignment then a meeting might be required and should then be scheduled.
Organizing Meetings

When a meeting is required, it is important to follow the following steps to make the meeting as effective as possible. The meeting owner will have to strongly prepare for the meeting in advance and will have to circulate the materials as PRE-READ materials ahead of the meeting. Ideally, these materials should be short and easy to consume and distributed at least 2 days before the meeting so that everyone has a chance to review these materials.
The meeting then actually takes place following the meeting best practices highlighted above. Finally, a follow-up email is sent with summary and action items to a wider audience for any comments.
Responsibilities of meeting organizer and attendees
Meetings owners have specific responsibilities
Come prepared for meetings
Distribute material async when possible
Send Pre-READ materials ahead of time (Files, Links, Asana, Wiki boards, etc)
Invite the minimum set of people to the meeting. Use REQUIRED and OPTIONAL attributes in invites.
Start meeting on time
Keep meetings on topic
Take notes during meetings on decisions and action items
Send follow-up and meeting summary after meeting to a wider audience
Meeting attendees also have the following responsibilities
Review any discussion material and give timely feedback to avoid the need for meetings in the first place
Review pre-read materials and come prepared for the meeting
Join the meeting on time
Be an active listener and fully present in the meeting
If you do not think you can contribute, decline the meeting